As I've journeyed into apartment decorating, I've gathered some tips I wish I'd had myself 9 months ago. Hope these are helpful!
1.
Hang curtains with tension rods.
But Ellen, you say, that's not a tension rod!
YES. IT IS.
I'm telling everyone I know about how much I
love
Target's no-drill curtain rods. (No, they're not paying me. But they should!) Target sells tension curtain rods that actually look and hang like real curtain rods! And they don't make any holes in your walls! I'm in love with them. Kenny and I bought both the
$22 Threshold rod
and the
$16 Room Essentials rod
. Both work beautifully. The curtains have been up for several months, and they've never fallen.
2.
Fill space with books
.
One of my frequent decorating problems is filling space. When Kenny and I moved in, there were empty walls and empty shelves and empty tables everywhere!
For me, the easiest way to fill that space was with books. As a book editor, I already owned a ton. But you can never have too many! I added more books to my collections by shopping at thrift stores and used book stores. You should be able to find books with cool bindings for only a few dollars each, if not less. Much cheaper than the $20 knickknacks at Target!
3.
Hang heavy items with sidewinder hooks.
I'm in love with
Hercules hooks
. Though our landlord doesn't want us making big holes or drilling screws into the walls (hence the tension curtain rods), we
are
allowed to make small holes that can be easily patched and painted over. Picture nails are just fine for hanging small shelves and frames, but I really wanted to hang a mirror in our entryway and a picture nail wasn't going to do.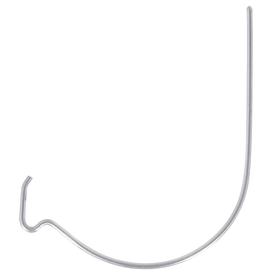 These sidewinder hooks don't even need a hammer - you press them into the wall, guide it as it curves up until only the hook at the end is exposed. The rest of the contraption fits inside your drywall. And the hook can hold up to 35 lbs!
4.
Grab cheap picture frames
.
When I graduated college and started buying big-kid decor, I was shocked at home much picture frames cost. $15?? For a picture frame?? Hah. No way. There are lots of great tutorials online for how to make dollar store picture frames look amazing. But I was too lazy even to acquire a can of spray paint. Instead, I scoured the clearance sections at Target, Home Goods, Marshalls, everyone. I ended up nabbing a lot of really nice picture frames for less than $5 each.
5.
Don't be afraid to thrift and refinish.
One of the things Kenny brought to our marriage was an old coffee table he had gotten at a garage sale for $5. $5! For a coffee table! When we moved in together, it was a bit of an eyesore. The table top had a shiny, light-wood finish with water marks, and the legs and body were an emerald green. It was not attractive. I promise.
Kenny and I decided to strip the old stain and restain and paint the table. Since it was our first DIY project, it did take a few weekends to get everything right. But we couldn't be happier with the results.
What DIY decor projects are you working on?
**
This post contains affiliate links, which means that if you buy one of the linked products, I'll receive a small commission.**